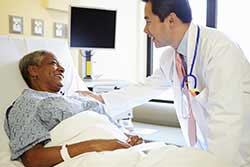 We are committed to enhancing the Patient Experience through improved care, better outcomes and reducing unnecessary costs.
As an affiliate of the nation's leading healthcare company, we have access to a vast clinical data warehouse, allowing us to adopt best practices to ensure best possible outcomes for our patients. Key focus areas include:
Antibiotic Management
Through education and clinical order sets, we support antibiotic stewardship.
Blood Utilization
We encourage best clinical practices in blood utilization by adopting a more conservative approach to blood utilization which recent studies show improves patient outcomes.
Children & Pediatric Emergency Care
We use a sophisticated medication safety program designed for infants and children to ensure proper dosing and administration of drugs.
Flu Season Preparation
HCA is a leader in making hospitals safer for patients and visitors by providing free vaccines to staff and requiring vaccinations of health workers with direct patient contact. When a vaccine is not possible, the caregiver must wear a mask when in proximity to patients.
Medical Research
Improving trauma care in Florida is one of our largest statewide research initiatives through our collaboration with USF Health. We also participate in a number of research efforts through our affiliation with HCA's Sarah Cannon Research Institute (SCRI) and our GME programs.
Mothers & Newborns
HCA hospitals were original participants in the March of Dimes studies to minimize or eliminate elective deliveries before the 39th week of pregnancy. HCA was also the first US Health System to test newborns for Kernicterus, which is now an industry standard.
Patient Safety Resources:
FloridaHealthFinder.gov
Patients may access the State of Florida's Agency for Healthcare Administration website at this link for information about this facility: www.floridahealthfinder.gov