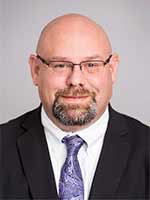 Thank you for choosing Lake City Medical Center. I hope that you find our site useful and consider it a resource in making informed decisions regarding your healthcare.
Our mission is simple: "Above all else, we are committed to the care and improvement of human life." Patient care is our number one priority. All of our employees, physicians and volunteers are dedicated to making your hospital stay with us as comfortable as possible.
As the CEO of Lake City Medical Center, I am committed and humbled to be part of our North Florida Community. Following my experience as CNO of this facility and having left to serve other communities I am excited and honored be a part of our team at Lake City Medical Center because of its reputation and history of providing great service to this community. Lake City Medical Center has many years of recognition for quality outcomes, and has seen recent significant growth in adding new services. My commitment to this community is a continuation of high quality healthcare in your hometown, further expansion of our services to meet your needs, and a continuation to be your provider of choice and healthcare destination.
For more than 60 years, Lake City Medical Center has had the privilege of providing the highest quality healthcare to the residents of Lake City and the surrounding communities. In serving our community, we have achieved many high benchmarks as a community medical center, but the most telling of all is having been voted as the "Best of the Best" Hospital in our community for 20 years in a row, a huge honor for our employees, physicians and volunteers.
In addition to this honor and designation, we are proud of our clinical accomplishments, which include the following:
Disease Specific Certification as an Advanced Primary Stroke Center by The Joint Commission
The Joint Commission's Gold Seal of Approval® and Named one of the nation's "Top Performers on Key Quality Measures®" by The Joint Commission
Chest Pain Accredited by the American College of Cardiology
As we continue to strive for excellence in providing high quality, compassionate care to you and your family, please let us know if there is anything that we can do to enhance your experience at our hospital. It is our pleasure to serve you and please do not hesitate to contact us. Again, thank you for taking time to view our website.
Rick Naegler
Chief Executive Officer
Lake City Medical Center